Fields, bushes, waste banks…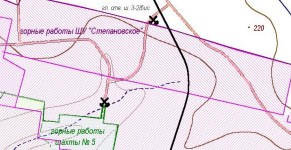 Don't be afraid of going into dark, stifling with dust -
You're not alone to confront such things.
The tunnel shield is straight and down from us!
We are creators of this labyrinth!
V.S. Visotskiy. March of Miners.
We'll consider this amazing trip as "Union Ground Connection 2012" . Diggers Eagle, Scamp, the Voice of Mind and me, Aislin, took part in it. Our minimum goal was to explore the district of the cities Shakhty and Novoshakhtinsk (it may be translated approximately as Mines and New Mines). The maximum goal was to get underground into one of the abandoned coal mines. Before the trip we managed to find in the Internet a pretty map of the Russian Donbass mine field. It helped us to choose our itinerary and to better plan our schedule.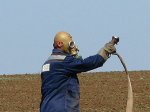 Now I shell describe in a few words why it was JUST THIS PLACE that we chose.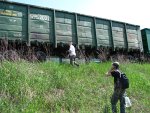 It is said that during the Soviet period the city of Mines represented the real center of the Eastern Donbass coal industry. Somewhile the Rostov oblast was split in two parts – Rostov and Kamenskiy. Shakhty became the center of the last one. Besides, the information about closing of a large number of mines is also widely spread. We decided to search for some local diggers' sites – without any result. Then we wanted simply to find any articles on excavations, or their photographs, or stories – and we only found some photos of demolished buildings (the former mine administrations). We connected with the mass media of Shakhty asking about the reasons of mine closing and conservation. The only answer we got was that everything is inundated and burst. So we understood we had to go!
In the first evening, without relaxing after a long way, we started with the itinerary marked on the map.
To obtain the first ventilation shaft we had to struggle forward through a forest. It seemed quite simple but became a big mistake because even a considerable detour by car could save many hours of our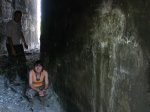 time. This forest proved to be literally impassable. Its most part was represented by thorny bushes and trees with the branches weaved so closely that we had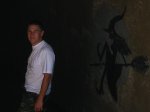 virtually to creep under them. We got to the point being absolutely exhausted. The remains of the shaft looked imposing. Unfortunately it was completely flooded. The depths of this zone reached 500 meters , according to our map. And water in the shaft could be seen at the depth of nearly 30- 40 meters . Then we did a desperate forced march across a beautiful green field and found a concrete area with a concrete tie dug in. Once there was an inclined ventilation shaft of another big mine. (I don't give their names and coordinates to prevent some guys, who are less prepared and less careful, from repeating our deeds). Returning back to the car took our last forces. Eagle named this pitiless forest "The Bad Forest" and we agreed.
A place for an overnight camping we chose near the river Ayuta. Everyone went to sleep early because the next two days promised to be full of tough and, as we believed, productive search.
We spent the second day driving round the neighbourhood of Novoshakhtinsk. In front of the windshield fields were changed by fields, waste banks by new waste banks, concrete dug ties by other similar ones. All closed shafts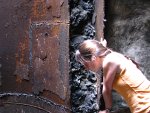 were blew up... Somewhere on the black slopes of waste banks we could see people covered by the black dust pottering about to pick some coal. Between us we called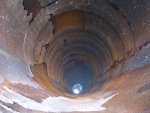 them "coal zombies". In the afternoon the decision was made to go to the city center, to have lunch and by the way to visit the famous Mine of Lenin. This mine was laid in 1916 according to the project of A.A. Skochinskiy, Russian mining engineer. (At that time the mine was called "The Deepening of Skochinskiy"). In the 1950s it was the biggest coal mine in Europe . The mining stopped in 2003 and the shafts were blasted. We knew very well there was no reason to look for anything underground there but we couldn't resist the desire to see the remains of the former coal greatness of the USSR . To say the truth we didn't regret at all. There were quite a lot of administrative buildings on the mine territory and we even managed to descend into an underground coal store.
In the second part of the day we kept on going further and found a very interesting object in a settlement. First we even thought that the fortune smiled on us. It was not demolished building at the place where the mine shaft of a little depth should have been situated. When we came closer it was figured out that the building was hammered in with wood planks, covered with concrete blocks from all the sides. It really pushed our interest to the high! Eagle and I found a good place to go over the wall and to get to the second floor where we could look through a window and understand what was inside. By the way there was a suspicious herdsman on the other side of the ravine. So we laid off a penetration till evening. All the more we had no doubts that we finally found the entrance to the underworld!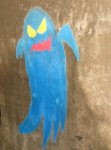 Joyful to an unspeakable range, we got into the car and went towards an asphalt road building some grandiose plans for the evening. Suddenly a black car sprang out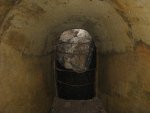 and blinked with headlights trying at the same time to press us to a roadside. We didn't think about any threat and stopped. Driver's shields were pulled down and we saw a man of a menacing appearance asking us something unclearly. I couldn't understand his words (because of a local dialect, I suppose) but his appearance said that he was ready to kill all of us right here and now. This time Scamp was asking again and again trying to consider carefully the problem. By common effort we caught an idea of his speech: if we were the people who had been recently seen near the shaft? To our legal question: "And who are you to ask us about?" – the man answered: "The mine owner". Then there was a series of threats like: if only anything had been stolen I would have found you and… etc. We hung trying to realize what someone could steel in an abandoned rusted shaft flooded long time ago and what for someone in general had bought it. Meanwhile the man disappeared but we were still sitting in the car and thinking about this strange affair. Only one thing was rather clear – the cowboy, swine, squealed on! At the same time a 16-17-year-old-girl came to the road from the field side. I saw it was our chance and, quickly putting off my green military jacket with a stripe of the Russian Civil Defence, went to meet her. I introduced myself as a Volgograd journalist and attempted to make inquiries about the shaft. I said that we went together with a production crew to create some TV programs. The girl looked a little bit scared and didn't break up. When I asked her frankly: "This shaft is someone's private property, isn't it?" She turned her eyes away and said: "People discuss that it was a local shop owner, Mr K…, who bought the mine". After that the girl run away. We decided not to stay here any more. This day we had no other precious findings. Except that exploring another place marked on the map we managed to get down into a quite long underground collector near a mine administration building. Its function was not absolutely clear. Maybe – a former cable collector. Of course, the interesting shaft was burst as previous ones…
We chose a place for a night camping among fields, found a small island of green, built tents, and after that we went to the field border and saw an anomalously huge semicircular bush. In the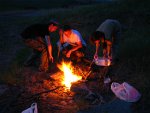 moon light the spectacle was really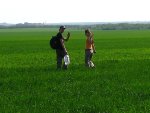 terrifying. Having come closer we understood it was also so tight that someone could easily climb it… Neither Eagle nor we have ever seen anything similar in our places. Scamp returned with a dosimeter and checked a radiation level. Fortunately it was normal. A question about a sacred meaning of the bush is open till today. Eagle supposed that inside of it might be an entrance into an other dimension. But it had to be at least one reason why they didn't cut it down and let to dominate among crops. At that night we put bear-spears for a fire hammering a big crowbar into a soil. The method proved its high effectiveness! (I should hold back the fact that hammering the crowbar and making the fire passed directly on the place where a high-pressure gas pipeline was laid but I can't keep myself from. :) )
The morning was cool and fresh. I got up and wanted to watch the huge bush again by daylight. My surprise was enormous when I saw that this diabolic bush had its clone at the other field side. This shocking information became a theme to discuss during our breakfast tea. Then we restarted our search. Near the place where we spent the night Scamp revealed a hole in the ground. A half an hour later – another one. The descent didn't take a lot of time – these holes turned out to be entrances to the former service rooms which weren't linked with a shaft itself. The air inside was so musty that after several steps our heads started spinning. We hurried up to leave this place.
The mine of the name of…
Yes, one day profit may excite,
And we dig deeper for the hunger sake.
We're searching for some anthracite
Sometimes forgetting ourselves…
V.S. Visotskiy. March of Miners.
Anthracite - coal of a hard variety
that contains relatively pure carbon
and burns with little flame and smoke.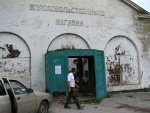 The hope was dying down steadily: we visited almost all marked places and found no one shaft accessible for the descent, knew nothing intriguing. But Yorool-Guy (digger's Great God) never desert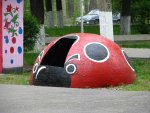 its followers! It was our destiny to receive what we most wanted.
Being very sad we were driving in the south outskirts of Shakhty . I proposed by the way to take a look at one of the working mines nearby. Just to glance from the side. And then the most interesting things started! Watching through a spyglass from a bush we could see that this shaft obviously is not under security, dogs were absent, barbed wire was absent, and anyone was absent… Without any talks we moved towards the shaft. When we had already come nearly to the first building Eagle saw a woman sitting on a bench under a tree with knitting in her hands. We had no plan so we approached to her with happy and frank smiles. The woman surprised very much but after our history about journalists from different cities of Russia but again she rejoiced and told us many interesting things. First of all, we knew that the main curiosity of these places was a waste bank of the mine Ayutinskaya burning for many years. Secondly, there was an opinion among the citizens that most mines had been flooded intentionally (therefore, filling with the ground waters might not be the result of an accident but of the subversion of any competitor forces). Thirdly, we knew that shafts of a big depth were usually equipped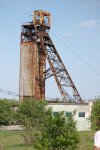 with several descent mechanisms (not with only one) placed on different levels. For example, a shaft of 800 m depth has a first descent to a 500 m point where another control panel is placed and miners go to a change room. They enter in other cage there and go down further, to the point of 800 m.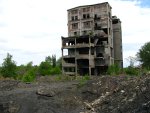 A hospitable mine supervisor showed us all the constructions on the territory explaining their meanings. We had visited a ventilation hangar, a room for chokes control, we also examined a control panel for an elevator (another woman with a little dog was sitting there) and, of course, a shaft itself with cages and an emergency exit equipped with a LADDER…
After the excursion we thanked our guide from the hart and went to the car. Our mood became better than before. Already 15 minutes later we decided that it was impossible to miss such a chance! We had to try to get in the shaft at night. In the case of our disclosure we took a decision to deny the fact of meeting the shaft women before and to take overall responsibility for ourselves.
Night assault
In 2005 Luigi Cani
set a world speed record
(a jump from troposphere),
obtained in the free fall – 553 km/h.
Wikipedia.org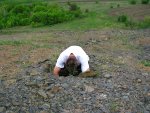 A camp was made in a small ravine nearby. To know for sure that the mine security wouldn't change in the evening we decided to keep a look-out. Eagle, Scamp and me with the spyglass went to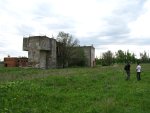 the forest plantation near the shaft. The Voice of mind stayed in the camp to be on the safe side. On the way to the forest plantation we met a sudden obstacle represented by a semi-dry stream. This stream, and more correctly – its clay shores, proved to be very insidious – Scamp almost lost there his running shoe. After this accident everything was good. We were watching the territory for a long time hiding in a bush and we were pretty tired. Periodically the Voice contacted us and announced that the situation in the camp was OK. We were returning after dark, jumped over the stream very carefully this time. In the camp we took all necessary equipment and started a sally four together.
We slinked along the shaft almost on tiptoes, very slowly and carefully, to make no one loud voice or sound. The moonlight was bright and let us see some things contours without using lanterns.
We penetrated the shaft without any problems. Near an emergency ladder Scamp measured the methane level – it was normal. Then I proposed such a game plan: I was the first to descend a stair-well, to observe all around and to appreciate the safety of constructions. If everything was OK I'd give a sign to the follower and go deeper myself. If something was wrong, I'd give another sing and go up urgently. Proceeding from the general depth of the shaft of 160 m and the altitude of one stair-well of 4 m , we counted up approximately that we had to overcome 40 ladders…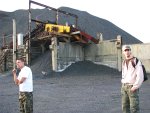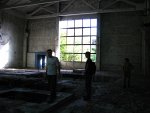 I put on a helmet and started descending. The first stair-well rejoiced me – the ladder, although it was corroded, proved to be quite solid, besides, it was doubled by the second emergency ladder at the side. I looked over a platform and gave a sign to Scamp. At the same time I understood that it was a too fast decision because the second stair-well was much more dangerous, rotted through and didn't have another ladder. I was moving down cautiously, tried almost not to breath to hear every sound. Rust made by Scamp's descent was falling on my face and helmet. On the second platform I realized the affair had gone bad: the humidity here was so high that all the construction had rusted through. Everything I touched started crumbling in my hands. A clear murmur of water was heard from below… Trying not to lose hope I extended my hand and took the next ladder step, pulled it slightly to me but suddenly… the ladder broke somewhere in the middle and easily fell down to my side! I instantly felt horror imaging like this moment all the platform where I stayed was tearing off (or, much worse, all this iron construction where Scamp and I were hanging) and flying to the chasm… 160 m – really it's not as little as you may initially think. It's quite enough to realize all the charm of the free fall. For the first and the last time… I raised my head and waved the hands brokenly. Scamp understood a signal and started rising up as soon as was possible. I followed him. Four we intended to close the well cover noiselessly but nevertheless the crash occurred, so we had to retire from the shaft at a run to avoid meeting our familiar women. By the way I assume that they could hear nothing from a neighbor building.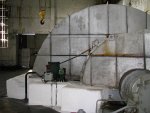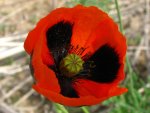 We fell asleep like a log in our camp.
The last day of our fabulous journey was commemorated by a visit of SDPS (state district power station) bunker. This underground building is interesting because it accumulates functions of a dug-out and a drainage system under its floor. It also has an impressive bricked entrance portal.
Well, our trip went to the end but adventures never end!!!
It is quite possible that one day we'll have an official mission in Shakhty. :)

Aislin, 23.05.12