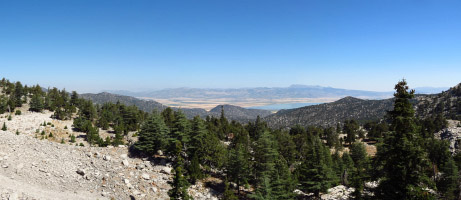 Kaymakli Underground city. This place is located 10 km north from Derinkuyu and is also one of the favorite tourist destinations in the region. (Accordingly, it is also full of people and especially - of tourists from China and Japan ). 4 floors are available for visitors. From the bottom of them, if you look through the trunk of the ventilation shaft, you can see that it goes down another 10 m minimum. There is no explicit closed or blocked passes there. Hence the conclusion - or this shaft was also a well, or from some other place you can get into the deeper part of the city.
I want to note that, from the digger's point of view, Kaymakli is certainly more interesting than Derinkuyu. It is under UNESCO protection as well, but, firstly, here nobody told us a word about shooting with a tripod, and secondly (the most important), dark side branches of the main tourist pass are not so very carefully locked from all the curious tourists. Basically they close only passageways leading to the ventilation trunks to prevent that someone inadvertently flies to seek unexplored lower tiers. As for the rest – you are welcome, everything is open! Perhaps, the administration did not have enough grids and locks for all passages, because, unlike Derinkuyu , this underground city is much more branched in breadth. Of course, there is no lighting in that part of Kaymakli not prepared for tour groups. But could it stop, for example, us?
Letting pass by another Japanese group, Scamp and I, we quickly quitted the marked tour route and came in a huge abandoned part of the city consisting of several layers. Along the way, we met several times open and half-open millstone doors. Sometimes we had to squeeze through them, taking off a backpack, a tripod and a camera carry case, so we were not afraid of prosecution - few would have dared to climb there. Somewhere we saw the bones of animals, somewhere - traces of water on the walls: apparently, in certain periods this part of the city could be flooded a little. In an effort not to leave unexplored passages, we at the same time did everything possible not to get lost: walked according the right-hand rule, drew circles on the floor and put stones on them in the places where we just came out from. Still, once or twice orientation disappeared. The closed part of the underground city of Kaymakli is like a cave labyrinth!
Returning back on the tourist trail we have repeatedly looked into dark side branches. Here and there were just living rooms, here and there - narrowed passages turning into impenetrable fissures. In general, the work is waiting for local archaeologists.
P.S. There is even a regional legend, how without it, talking that the two underground cities of Derinkuyu and Kaymakli are interconnected by a 10 - kilometer long tunnel! Who knows?.. But we, as always, will doubt until we see it firsthand.